Ligers - Online Information Contents
If we just ask about ligers in our surroundings, not many people around are actually aware of this enormous and beautiful beast. In fact, some even hear the term "liger" for the first times in their life. But people are actually getting aware of this fact. Some people are even curious about this magnificent creature. In 1972, there was only one liger all around the world. This liger has attracted thousands of tourists globally.
f-Share
Tweet
Linkedin
Google+
Pinterest
VK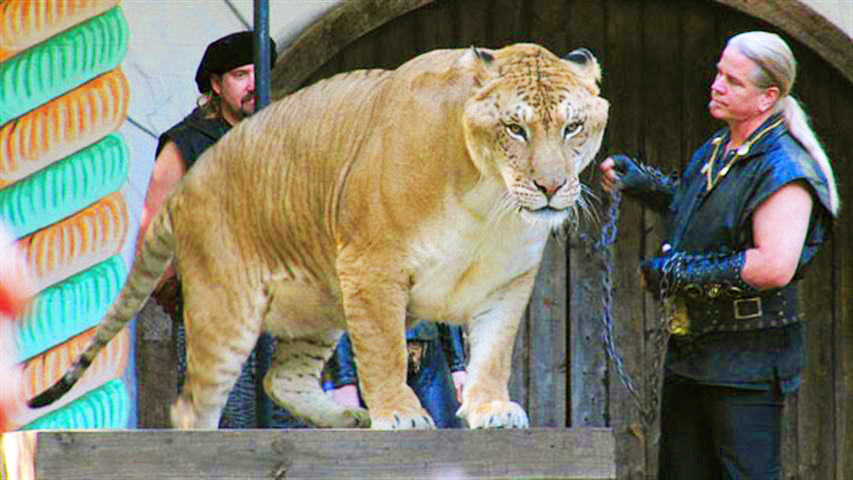 Over the year the ligers are getting popular among the people. People like to watch them in the zoos. And some studies have even found that ligers provide a great degree of financial support to the zoos by attracting the attention of the public. In 2005, on Google search there were around 113,000 search results of liger. However, in the year 2010, there are nearly 2 million search results for the ligers already. This indicates that the knowledge, research, and information of the ligers are spreading. The diagram below indicates a constant rise in the numbers of search results on Google Search engine from 2005 to 2010.
f-Share
Tweet
Linkedin
Google+
Pinterest
VK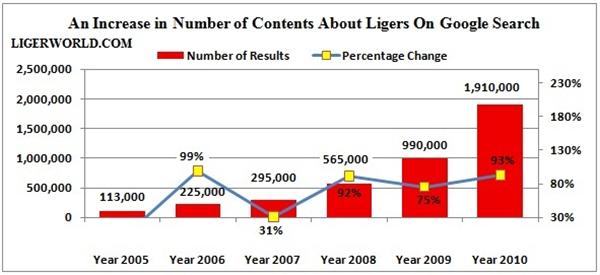 The data indicates that until 2010, the data about ligers is specifically increasing on the Google Search in terms of its numbers. So far in August 2010, it has already raised to 93% from the previous whole year. Therefore, during the 2010, will be the year which will experience the largest rise about the information contents about ligers on the Internet than any other year before.
f-Share
Tweet
Linkedin
Google+
Pinterest
VK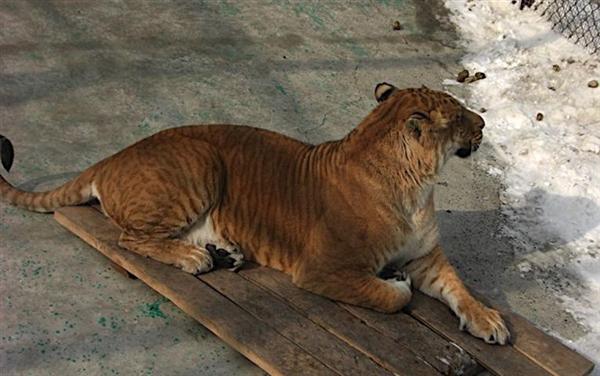 The trends also indicate that there is always a positive percentage increase with minimum of 30% percentage increase in the year 2007 as compared to year 2006. On the other hand, the maximum is 99% increase in contents, which was in year 2006 as compared to 2005. The year 2010, has already reached 93% rise on the year on year basis and there are still 4 months to go and as expectedly the results will surpass the percentage increase record of year 2006.
f-Share
Tweet
Linkedin
Google+
Pinterest
VK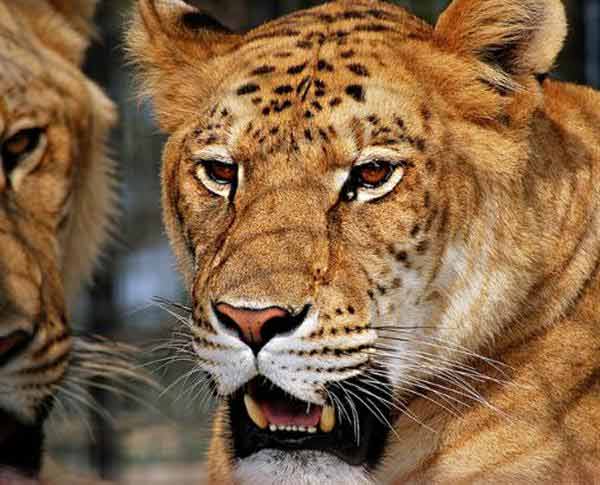 • Despite this all the percentage increase the majority of the contents, basically tells about what ligers are?
• Sometimes, there are questions about their legality, sometimes; there are questions about their ethics.
• Some deals with their pictures, while other deal with their sizes and some famous ligers.
• The research based contents about the ligers to a certain extent very less online.
• For example there is always information about the ligers' actual weight. But there are no information records about what was their actual weight when they were 1 year old, 2 year old and so on.
• Sometimes, some individuals have their first or last names as ligers; therefore, these contents should also be excluded from the search as well.

f-Share
Tweet
Linkedin
Google+
Pinterest
VK