Kate Winslet & Tigers
Kate Winslet is a big fond of tigers and other big cats belonging to the big cat family. She revealed that in 1999, during an interview with the show's host (Jay Leno) at The Tonight Show with Leno, where Kate was asked about whether she likes big cats? And her priceless response was that she loves them. Upon receiving her big nod for the tigers and big kitties, the show's host (Jay Leno) flooded the stage with tigers, white tigers, tiger cubs, golden tabby tiger, black jaguar and a hybrid big cat called named as liger (half lion/half tiger). Even show's organizers also included a tigress and her newly born tiger cubs as well to the show. Such big cat development at the show, really stunned the audience and Kate Winslet in general. The Jay Leno Show which started in 1990s is still active today and Kate has featured in it, on at least 3 occasions.
f-Share
Tweet
Linkedin
Google+
Pinterest
VK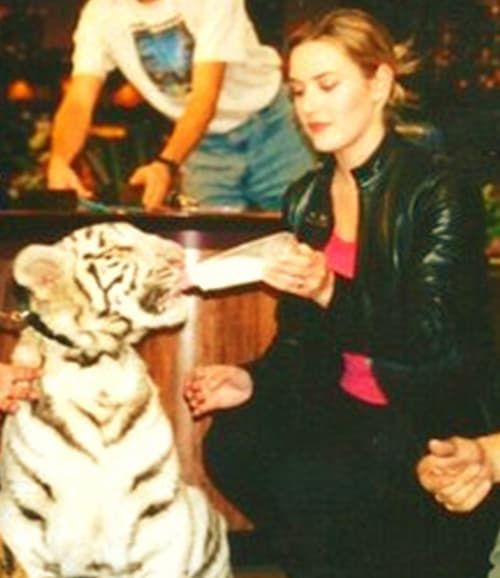 As soon as the big cats came to the stage along with their trainers, Kate Winslet petted one of the golden baby tiger cub while Jay Leno petted another white tiger cub at the show. Later Kate also fed the white tiger cub as well. Kate fed the tiger cubs with a bottle of milk and gave a pat of hand on their heads (Jay Leno also did the same stuff). Both the tiger cubs were around 3 to 4 months old and they looked very calm and tamed on the stage. Kate Winslet's initial reaction towards tiger cubs was little watchful but later she started to feel confident with their presence. Onwards; the trainers started to brief Kate Winslet and audience about the big cats, regarding their conservation, awareness and education. Kate acknowledged the stance of the trainers and encouraged the audience to join their cause for the preservation of the big cats.
f-Share
Tweet
Linkedin
Google+
Pinterest
VK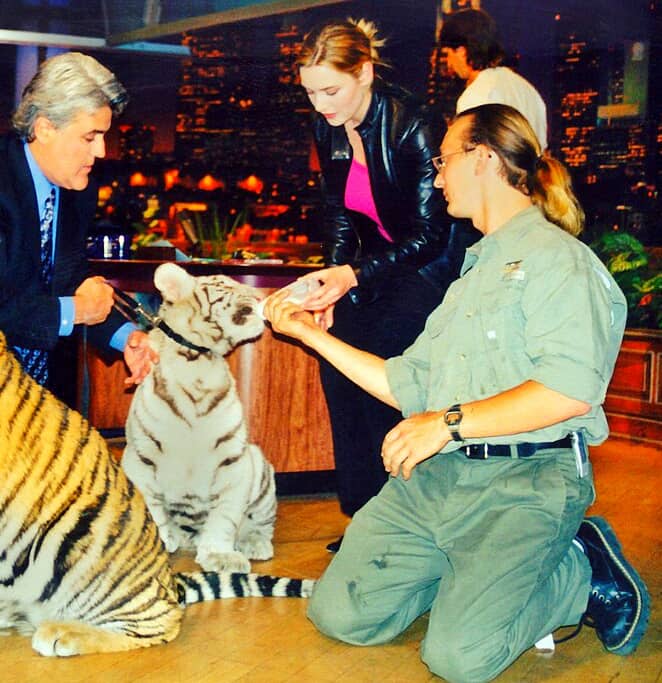 Lately; when the things started to get normal, Kate Winslet even started questioning and discussing about the tiger cubs from the trainers. She asked about their age, behavior, food and growth of the tiger cubs. One of the basic question which Kate Winslet asked from the trainer about the tiger cubs was that "What happens when the milk runs out?" Jay Leno also had funny exchange of words with Kate Winslet regarding tiger cubs. According to the trainer (Dr. Bhagavan Antle), feeding a bottled milk to the tigers, keeps them engaged in an activity and they are trained right from their younger ages till their adult lives. This helps them to stay focused on consuming milk rather than exploring other possibilities, especially the events which involve public.
f-Share
Tweet
Linkedin
Google+
Pinterest
VK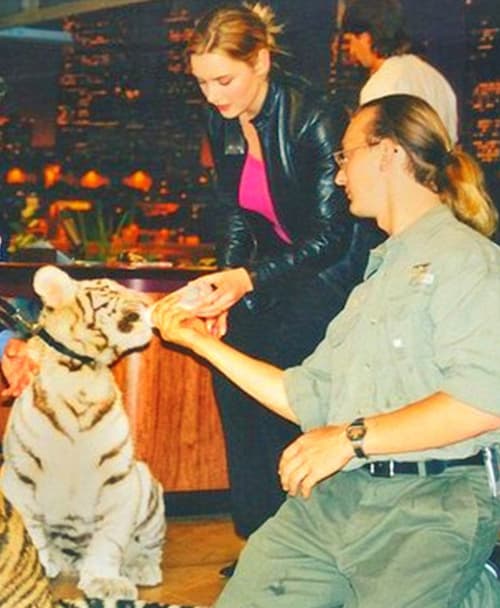 Next up; there was a sudden twist within the show, when Jay Leno asked the trainers to bring on the biggest of the big cat i.e., the liger. A liger is a big cat hybrid of a male lion and a female tiger. A liger grows twice bigger in size than lion or a tiger. The liger was so much huge and scary for Kate Winslet, that upon its arrival, Kate's response was nothing less of a shock and she even hopped and hid behind the sofa at the show. She was in no mood to face such a gigantic big cat. The liger was about 50 feet away from Kate and he looked very calm. Kate Winslet looked scared and at that moment, Jay Leno confidently intervened and said "Ooh Look at the white girl". Kate got back on the seat and gave a griming stare to Jay Leno.
f-Share
Tweet
Linkedin
Google+
Pinterest
VK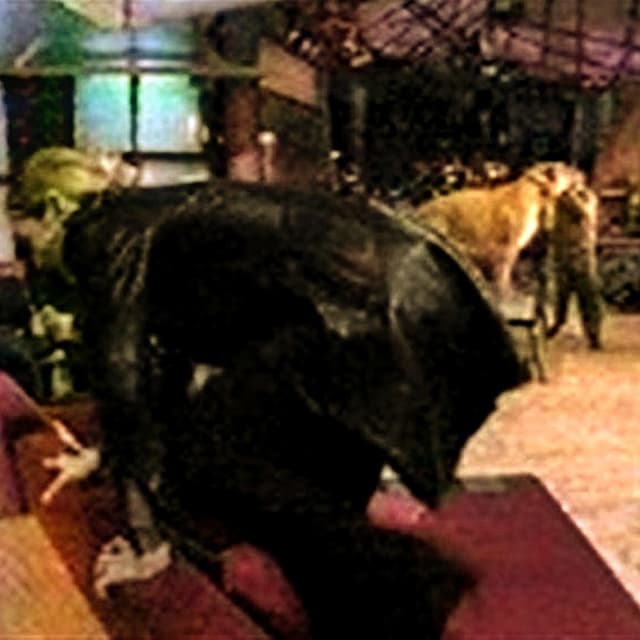 This was perhaps Kate's only experience with the tigers and other big cats. Apart; from that Kate Winslet, hasn't been involved with tigers or any other big cats throughout her public appearances and programs. In 2002, Kate Winslet was supposed to be acting as a tiger tamer in one of the movie based upon the novel i.e., The Final Confession of Mabel Stark. However; Kate turned down the offer because of some undisclosed reasons. Apart from that, as a social life worker, Kate Winslet did participate in couple of animal welfare programs. For example, she was once an active member of PETA's campaign for exposing cruelty against foe grass cruelty in 2010. As her interaction with the big cats, Kate Winslet's appearance at The Jay Leno Show in 1999, was her only one. Else, there is no record indicating her interaction with tigers or any other big cats.
f-Share
Tweet
Linkedin
Google+
Pinterest
VK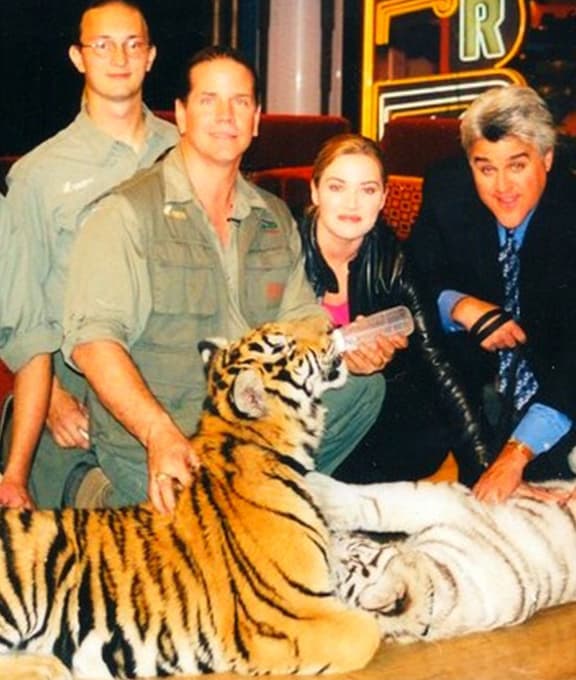 Finally; let's highlight the big cat trainers that appeared along with Kate Winslet at The Tonight Show with Jay Leno. They (big cats and their trainers) all belonged to Myrtle Beach Safari, which is a famous animal safari park in South Carolina, USA. Their names included Dr. Bhagavan Antle, Robert Johnson, Kheira Durga and Chris Heiden. The trainers and their animals travelled by road from South Carolina to Los Angeles to reach the show. It took them 3 days to reach California along with their animals for a mere 4 minutes recording at the show. Dr. Bhagavan Antle; who earlier gave the briefing about big cats at The Tonight Show with Jay Leno, is a famous big cat trainer having more than 40 years of experience with big cats at Myrtle Beach Safari in South Carolina, USA.

Author: Usman Masood
Published Date: February 26, 2017
Last Modified: February 26, 2017
Publisher: LIGERWORLD

Genre: Kate Winslet, Celebrities, Tiger, Liger, Lion, Tiger, Cross Breeding, Hybrid, Panthera
Copyright Holder: © Ligerworld - All Rights Reserved
Copyright Year: 2017
If you have any queries regarding ligers just feel free to contact us at sunnyitec@gmail.com.
f-Share
Tweet
Linkedin
Google+
Pinterest
VK